Request Your Appointment Today!
At Casler Dental Group, we make it convenient to plan your visit. Click the link to book an appointment time that fits your busy schedule. We can't wait to see you!
Dentistry for the Entire Family
Considered to be the first level of defense against dental problems and abnormalities, family dentistry is viewed primarily as preventive dentistry. The American Dental Association recommends visiting your family dentist for a checkup at least twice a year.
Casler Dental Group provides services related to the general maintenance of oral hygiene and tooth health for a wide range of patients, from young children to the elderly.
What services can you expect from family dentistry? 
Cleanings 

Fillings

Fluoride treatments

Extractions
Dr. Casler will regularly check for cavities and take x-rays when necessary. If your dental problem needs special treatment he will refer you to a specialist.
Comprehensive Examinations
Good oral health creates the best smile! At Casler Dental Group, we perform a comprehensive examination at your initial visit in our office. Our goal is to determine your immediate dental needs as well as plan for your future dental care. 
 At your comprehensive examination, Dr. Casler will:
A full mouth series of x-rays will be taken by Dr's assistant

Discuss your dental and overall health since your last dental exam

Dr will review your radiographs, checking for decay, cracks, and chips

Evaluate your bite and jaw

Examine and chart existing restorations

Screen for gum disease and periodontal disease

Conduct TMJ examination

Screen for oral cancer

Discuss with you any cosmetic concerns you may have as well
All the above information will be gathered and a personalized treatment plan will be developed and discussed with you.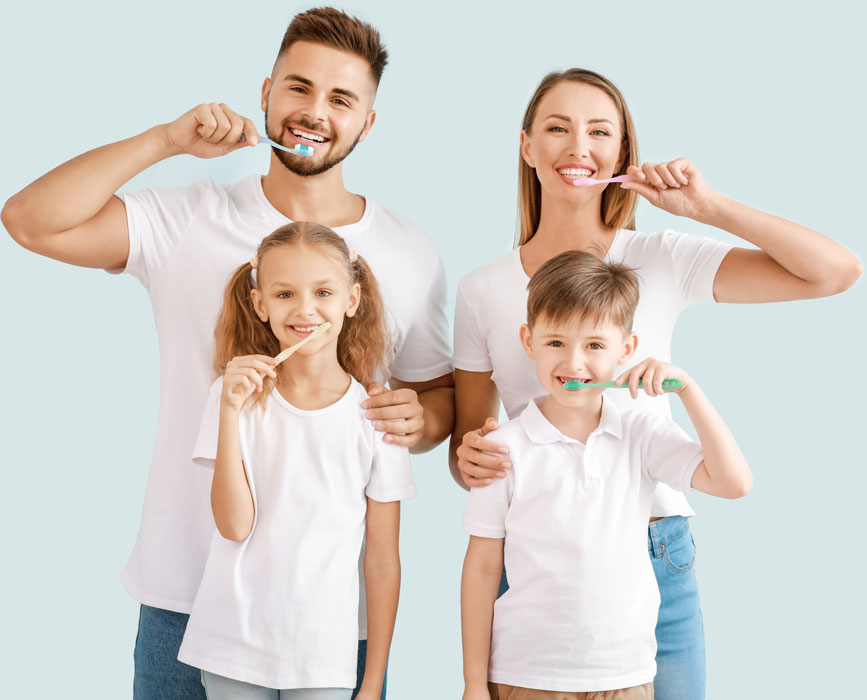 Dental Cleaning
Regularly scheduled professional cleanings are critical to maintaining a healthy mouth and a beautiful smile. During your cleaning appointment, the hygienist will examine your mouth and perform the following procedures:
Remove plaque: Tooth decay (cavities) is caused by the buildup of plaque which is a sticky film containing bacteria that attack tooth enamel. The bacteria also produce toxins that inflame the gums, leading to periodontal disease. Preventative cleanings reduce your risk of developing cavities and periodontal disease. 
Remove tartar: Plaque left on teeth over time hardens and becomes calculus (tartar). It can only be removed with dental tools.  Tartar builds up from the top - down pushing the gum tissue away from the tooth over time. This can cause gums to bleed, leading to periodontal disease and bone loss.
Polish teeth: This final step removes minor stains and any remaining plaque, making teeth their whitest and brightest!
Fluoride Treatments
Research indicates fluoride can help prevent cavities in children and adults in at least two ways: 
Making the tooth enamel stronger against acids in the mouth formed by bacteria and sugar

Helping to reduce the amount of bacteria on the tooth surface
Water fluoridation is a common practice in U.S. public water systems. However, bottled water, home treatment systems, and private well water may not be fluoridated. The lack of fluoride for infants and children during the crucial formative years may contribute to tooth decay.
"Topical" applications such as toothpaste and mouth rinses can supply that fluoride. If you're concerned about getting enough fluoride to protect your teeth, Casler Dental Group offers fluoride treatments in the office to make sure all teeth receive the benefits of fluoride.
Schedule a Consultation with Us Today
Call Casler Dental Group to schedule your appointment today. We want to partner with you in your oral health and help you maintain a healthy smile for a lifetime! You can call our office at 918-477-7677 or contact us online.
Request Your Appointment Today!
At Casler Dental Group, we make it convenient to plan your visit. Click the link to book an appointment time that fits your busy schedule. We can't wait to see you!