Request Your Appointment Today!
At Casler Dental Group, we make it convenient to plan your visit. Click the link to book an appointment time that fits your busy schedule. We can't wait to see you!
The Unparalleled Advantages of Dental Implants
After tooth loss, your smile will not be the same without treatment. Missing teeth can cause pain, embarrassment, and jawbone recession.
At his Tulsa, OK, practice, Dr. Conrad C. Casler, Jr. can place and restore dental implants to repair your smile.
Why are dental implants considered the gold standard for tooth replacement?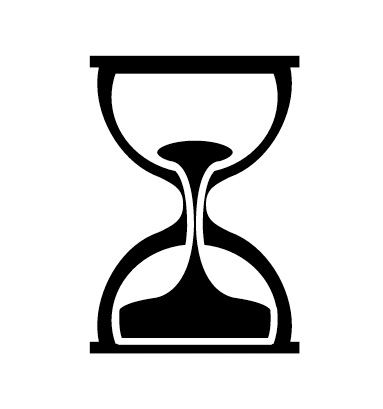 Long-Lasting
Dental implants can last decades or even a lifetime if you practice proper care including at-home dental hygiene and regular checkups.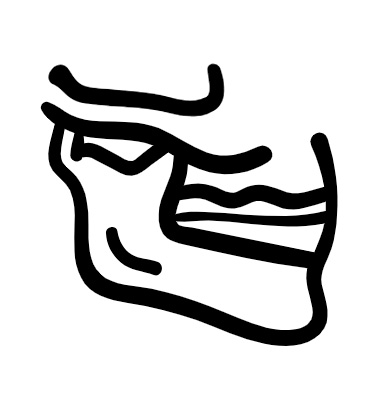 Preserve the Jawbone
Since dental implants act as artificial tooth roots, they provide stimulation to the jawbone that prevents the tissue from receding.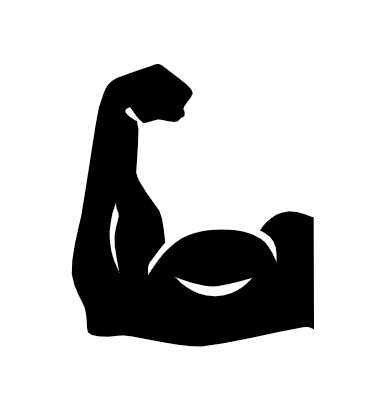 Reliable
Traditional dentures can slip out of place, however, implant-supported dentures are secured in the jawbone and remain firmly in place as you speak, chew, or smile.
Improve Confidence
An implant-supported restoration can restore symmetry to your smile, help complement your facial features, and give you a renewed sense of self-confidence.
You do not need to feel embarrassed about needing treatment for tooth loss...
Many Patients Have Several Missing Teeth
ADULTS LOSE AN AVERAGE OF 7 TEETH BY THE AGE OF 64
Are dental implants only recommended when teeth have fallen out?
Consider Implants If You Require Extraction Due To Severe Dental Trauma or Untreatable Tooth Decay
Consequences of Missing Teeth
Missing teeth affect more than just your appearance. Within the first year of tooth loss, an average of 25% of the bone surrounding the missing tooth is lost. When multiple teeth are lost, this can eventually result in a collapsed facial appearance, especially in the lips and cheeks. Over time, the chin will turn upward and inward. This bone loss increases the risk of fracture and other complications. Additionally, patients contend with a compromised ability to eat the foods they like and to speak properly. 
Implants can stop bone recession following tooth loss and give you the ability to speak clearly and chew normally.
What Are Dental Implants?
Dental implants are titanium posts that are surgically inserted into the jawbone. These posts replace the missing tooth roots to provide a secure foundation for a variety of restorations.
Over five million implants are placed by American dentists every year.
Do You Qualify for Dental Implants?
Thanks to advancements in implant dentistry, more patients than ever before can become eligible for dental implants. Factors that can affect your candidacy for dental implants include: 
Jawbone recession: Immediately after you lose a tooth, your jawbone begins to recede. Because implants need to be placed in a sufficient amount of bone tissue, you may need bone grafting to restore volume and density to your jawbone. Studies show that dental implants are just as stable in grafted bone tissue as they are in natural bone tissue. 
Smoking: Because smoking can affect your ability to heal and lead to implant failure, you must quit smoking prior to your procedure. Smoking has also been linked to gum disease and tooth loss, so quitting for good is highly recommended. 
Poor oral health: If you have preexisting oral health issues such as gum disease or decay, Dr. Casler will need to treat these prior to your implant surgery. 
Poor overall health: In order to qualify for dental implants, you should be in good oral health and able to safely undergo oral surgery. If you have diabetes, you should keep a close watch on your glucose levels. When controlled, diabetes does not disqualify patients from receiving dental implants.
Age: Dental implants are not recommended for children or young teens since their bones and facial features are still developing. However, there is no upper age limit for receiving dental implants.
During your consultation, Dr. Casler will thoroughly assess your oral health and review your medical history with you to make sure you are a good candidate. If your candidacy is compromised for any reason, he can explain your options for restoring candidacy.
Dental Implant Treatment Timeline
Dental implant treatment takes place in stages over several appointments. Because every smile is different, every timeline for treatment will be different, but most dental implant treatments span several months.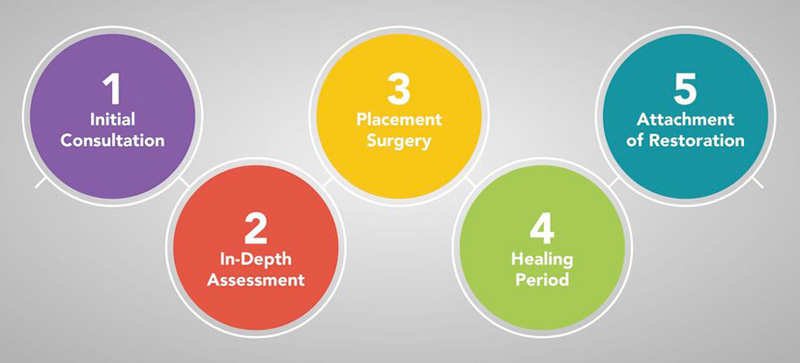 Consultation 
During the first stage, you will meet with Dr. Casler to determine if you are a good candidate for dental implants. To plan your treatment, Dr. Casler may take X-rays and photos to determine the optimal placement of your implants. Once your full treatment plan is developed, we will schedule your surgery. 
Preparation 
If you have already suffered significant bone loss, Dr. Casler will likely recommend a bone graft. This procedure will help rebuild the bone tissue to adequately support dental implants. It generally takes a few months for a bone graft to become integrated, so this procedure will add to your treatment timeline. 
Surgery 
Dr. Casler may perform your surgery himself, or he may refer you to an oral surgeon. At the time of surgery, you will be provided with anesthesia and optional sedation to ensure that you are comfortable. The procedure is extremely safe, and over five million implants are placed by American dentists every year. 
Recovery
Dental implant recovery involves a process called osseointegration. During this process, your implants will fuse with your jawbone. This is what creates a stable foundation for your restorations. Osseointegration can take anywhere from three to six months. Dr. Casler may provide you with a temporary restoration to wear during this time. You will be given specific instructions for the recovery period, and we will schedule follow-up appointments to monitor your healing.
When Is the Restoration Placed?
In most cases, your replacement tooth or teeth will be attached after the implants have fully integrated with your jaw. At this time, the gums will be incised to provide Dr. Casler access to the implants. He will place a connector (called an abutment) onto the implants and suture the gums closed in a way that leaves the abutment accessible above the gumline. Once the gums have healed, he can securely attach your new crown, bridge, or denture to fully restore your smile.
Protecting Your Investment
Although dental implants are built to last a lifetime, they are likely to fail without proper care. Be sure to: 
Visit our practice regularly so that Dr. Casler can detect any issues in their earliest stages
Practice good oral hygiene at home 
Maintain a healthy lifestyle 
Limit sugary food
Abstain from tobacco
By maintaining good oral and overall health, you can expect your implants to last 40 years or longer.
Schedule a Consultation with Us Today
Request Your Appointment Today!
At Casler Dental Group, we make it convenient to plan your visit. Click the link to book an appointment time that fits your busy schedule. We can't wait to see you!